Hi and Welcome to The Good Witch
I am so glad you have landed here as I've put together lots of quick tips, delicious recipes and awesome informative resources to share with you.
Start with Cleanse Your Body Report, nine simple cleanses you can do at home right now including: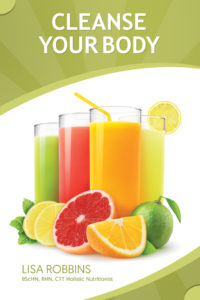 Daily Fast ~ Preventative and Restorative
Simple Water Cleanse ~ Weight Loss and Quick Detox
Lemon Juice Cleanse ~ Alkalizing and Improves Bile Flow Helping Digestion
Watermelon Cleanse ~ Weight Loss, Immune Boosting, Cleansing Buildup and Congestion
Burdock Root Tea Cleanse ~ Cellular Cleansing Herb
Fresh Juice Cleanse ~ Restorative and Energy Producing
Raw Vegan Cleanse ~ Enlightening and Rejuvenating
Brown Rice Cleanse ~ Many delicious foods on this cleanse ~ Comforting and Supportive
Liver Gallbladder Cleanse ~ Promotes Function of Liver and Gall Bladder and helps release toxins and fats
Includes 'Holistic Healing Journal', delivered directly to your inbox, with delicious healing recipes, simple tips, fantastic resources and incredible interviews with people who are healing with Breast Cancer, Brain Cancer, Prostrate Cancer, Type 1 and 2 Diabetes, Colon Cancer, Black Melanoma, Acne, Weight Gain, Asthma, Multiple Sclerosis, Allergies, Digestive Dis-eases and many many other symptoms, syndromes and chronic dis-eases.
As soon as you enter your information you will be sent an email to confirm. This double opt-in security lets us know that you really want to receive our information. Please click on the link in the email to confirm.
As soon as we receive your confirmation we will send you an email with your Cleanse Your Body Report attached.
Please click on the attachment. When the pdf file loads in your browser, be sure to save it to your desktop so you can access it later.
If you have any problems at all or if you ever can't locate your copy of the Cleanse Your Body Report, please email and we will take care of you right away.
We want you to be able to access this information, so you can use the amazing healing power of cleansing to feel better now.
Looking for a recipe? Use the search bar in the top right corner and enter a food or ingredient or click on 'Recipes and Teachings' in the menu bar above to cruise through the articles and recipes.

Looking for our books? Click here for The Cancer Journal Heal Yourself a how to book with personal stories, holistic nutrition tips and methods, with herbal teachings and the 10 Key Principles of Healing.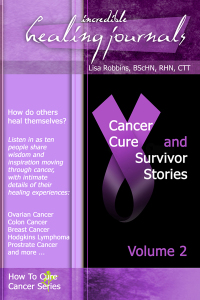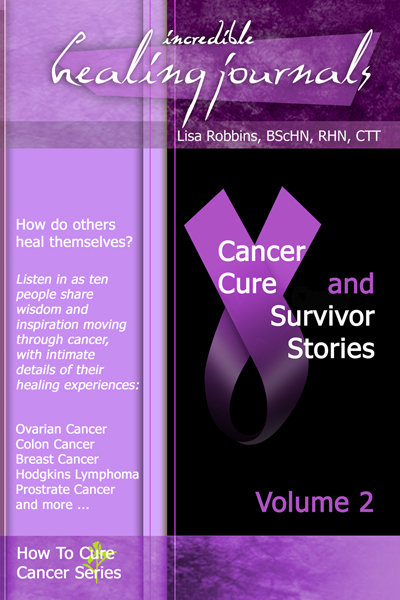 Click here for Cancer Cure and Survivor Stories, our collaborative books from Incredible Healing Journals Interviews.

Looking for inspiration? Scroll down and click on the large purple banner to go directly to the Incredible Healing Journals, where you'll find fantastic stories told by the healers themselves, streaming through the front page 24/7.
Got a question or comment? Email me through the 'contact' page, by clicking on Connect in the menu bar above.
Talk to you soon,
Until then, Happy Healing 🙂