COMING SOON!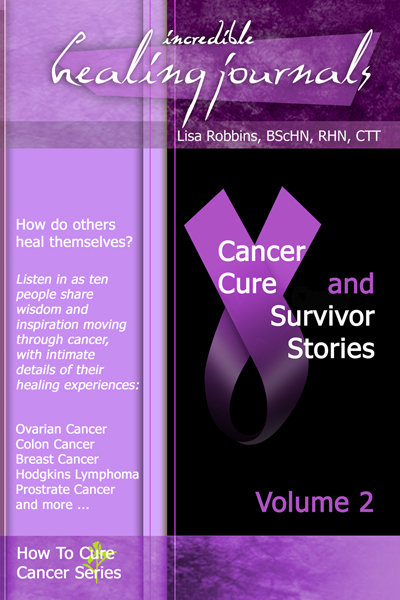 COMING 2016

AVAILABLE NOW!
Incredible Healing Journals Presents: Cancer Cure and Survivor Stories
Click on the book to order now in pdf, Kindle or print copy
Well, it's finally here!! This book is a beautiful collaboration of ten healing stories to you, direct from the inspiring interviews at www.IncredibleHealingJournals.com.
You will gain immense insight and knowledge about how your body heals and how you can use the same principles to heal your own body. These passionate stories are told by people who have healed from invasive breast cancer, deadly black melanoma, non Hodgkins lymphoma, life threatening tumors, colon cancer and cervical cancer.
We are so excited and very proud to bring you this second book in the How To Cure Cancer Series, and first volume of Cancer Cure and Survivor Stories. 
You can find more information about our newest book here: www.thegoodwitch.ca/cancer-cure-and-survivor-stories/
Speaking, Television, Guest Blogging and Radio Appearances
'Healing Cancer Naturally' Presentation at Speakers From The Heart, SpeakersFromTheHeart.com
'The 10 Key Healing Principles' Presentation at 100 Women of Destiny, Grail Springs Wellness Retreat and Health Spa, GrailSprings.com
The Jay Stoyan Show
ThatChannel.com
MasterHeartMagazine.com regular contributor http://masterheartmagazine.com/collaborators/Robbins_Lisa/
Mary's Moments on Trent Radio 92.7 FM
Celtic Storytellers and Friends on Trent Radio 92.7 FM
Guest Appearance on Liquid Lunch with Hugh Reilly ThatChannel.com Start video at 57:52
XZone Radio with Rob McConnell: Curing Cancer with Lisa Robbins
Elyn Jacobs Radio Show "Survive and Live Well – Tips To Treat and Beat Cancer" http://elynjacobs.wordpress.com Embracing Your Journey Through Cancer Can Be The Straightest Path To Your Cure
Breast Cancer Yoga Blog "A Holistic Journey Through Cancer Begins With Emotional and Physical Cleansing"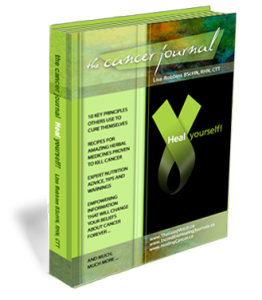 The Cancer Journal ~ Heal Yourself!
Official Book Tour and Signing!
Our launch pad:
Join us at Title's Book Store, our launch pad for the official book tour for the new print edition of The Cancer Journal ~ Heal Yourself!
Title's is located at 379 George Street North in Peterborough, Ontario. 
Join us to share ideas, ask questions, eat and drink and celebrate the birth of, The Cancer Journal ~ Heal Yourself!, for yourself, or for a friend or loved one. Lauren will be performing beautiful harp music and Heather will be serving delicious healing morsels from thegoodwitch.ca website. 
We'll be posting all book tour visits here as dates and locations are confirmed.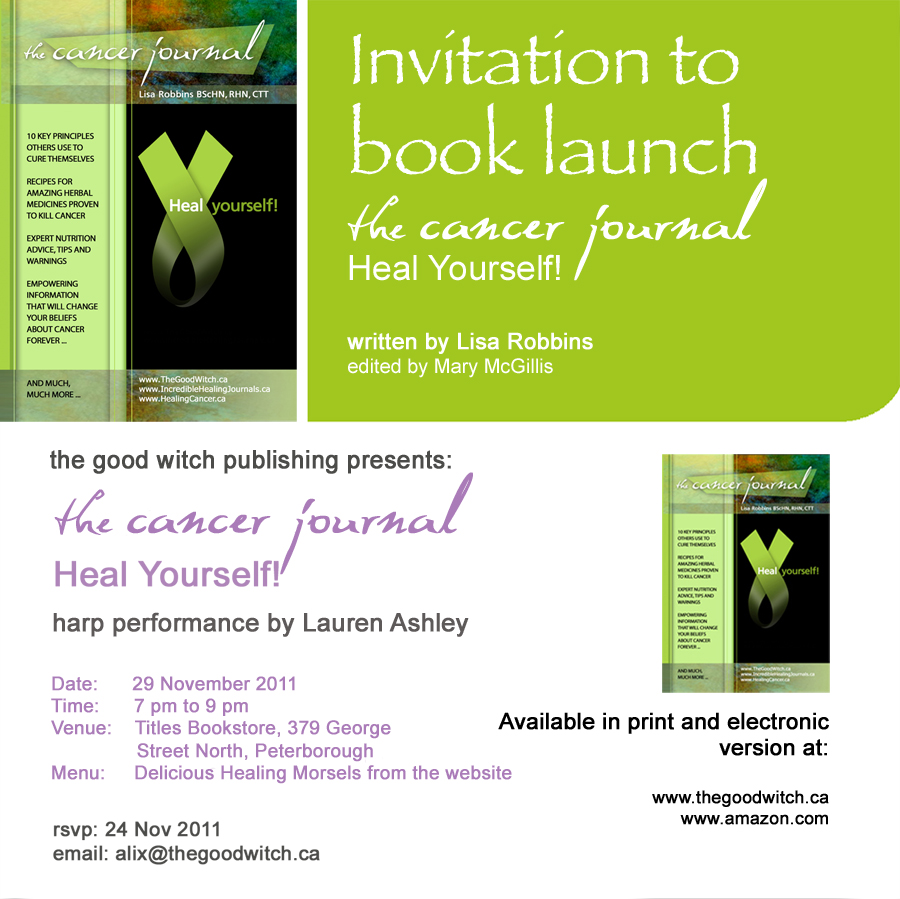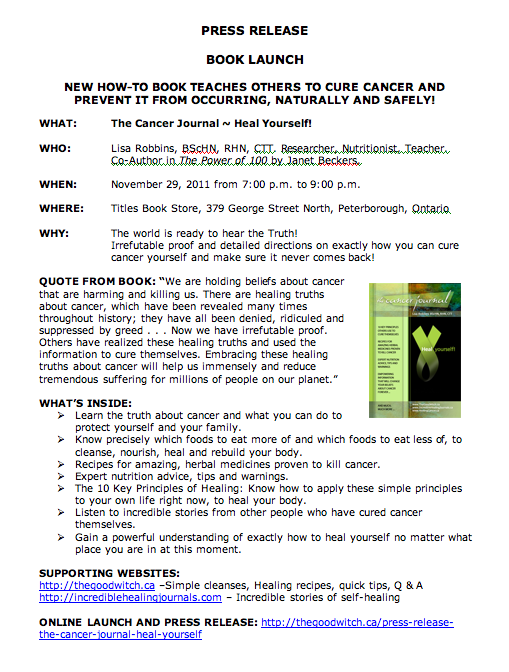 https://thegoodwitch.ca/press-release-for-the-cancer-journal-heal-yourself