To order one of our favorite books, just click on it.
We have more incredible books to share with you so stay tuned…
Featured Favourite Book
Elaine Cantin was diagnosed with breast cancer and within one week was rushed into have a surgical lumpectomy. Doctors wanted to immediately begin 'aggressive' radiation and chemotherapy and this idea frightened Elaine, as she had seen many family members and friends die. Elaine said, "I thought that if I had to go, I would not be going that way." Shortly after her lumpectomy the tumor grew back to the size of a small egg. Elaine had to think seriously about having more surgery and treatments. She began researching the Ketogenic diet and after modifying it to remove several allergenic foods, Elaine's tumor shrunk to the size of a chick pea and then disappeared. Elaine has been told by her oncologist that she is in remission. Her diet has become famous and people from all over the world are changing their way of eating and as a result, improving their health and state of 'dis-ease'. Many are healing from cancer. This book is highly recommended if you want to understand how eating 'keto' can help you lose weight and heal your body from dis-ease.
Raw Organic Vegan Uncooking and Natural Fermentation
The Art of Fermentation is a must have book for those interested in improving gut flora and immune system function. There is powerful healing in fermented foods and this book teaches simple steps and techniques for making your own healing, naturally fermented foods and beverages at home. Highly recommended.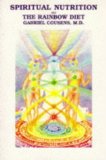 Spiritual Nutrition and The Rainbow Diet by Gabriel Cousens, M.D.
Affiliate Disclosure
These links are for books and products we have an affiliation with. We have chosen these affiliations because their information, products and services may be of tremendous benefit if you decide that is what will help you at this time. We know they can help you! You can see affiliate id's inside some of the links. This income helps pay for costs associated with our work. If you choose to click on a link and purchase a product we may get a small commission for guiding you to that resource.