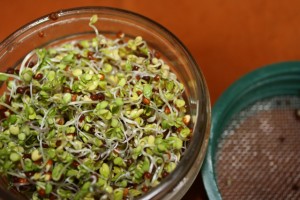 Have you ever tried to grow your own sprouts? It has to be one of the simplest easiest, and best ways to increase your nutrition.
It is also one of the cheapest! One small bag of Red Clover seeds costs less than $4.00 and will make close to 60 jars of fresh sprouts!
Growing your own sprouts is one of the secrets to Super Nutrition, a chapter and one of the 10 Key Healing Principles in, The Cancer Journal ~ Heal Yourself!
Your local health food store carries sprouting lids and many different kinds of seeds to grow peppery radish sprouts, crunchy broccoli sprouts and delicate red clover sprouts, nourishing alfalfa sprouts, perfect for eating straight out of the jar! You can add them to salads and sandwiches, toss them on top of canapés or curries, and throw them into smoothies.
Why Grow Your Own Sprouts?
Sprouts are loaded with phytonutrients that work to fight disease by cleansing, healing and protecting your body.
Broccoli and other cruciferous sprouts contain significant amounts of important cancer fighting compounds including sulforaphane and indole 3 carbinol, known for protecting against all cancers, but providing special protection against cancers in hormonal tissues, like breast, cervix and prostate. These natural chemicals are known to induce apoptosis (self-destruction) in cancer cells and increase the production of protective, free radical fighting enzymes. (Bowden, 2007)
A study on extracts of 3-day-old broccoli sprouts concluded they were highly effective in reducing the incidence, multiplication and development of chemically induced mammary tumors in rats. The authors stated, "Small quantities of crucifer sprouts may protect against the risk of cancer as effectively as much larger quantities of mature vegetables of the same variety."
The study showed that 3-day-old broccoli and cauliflower sprouts contained anywhere from ten to one hundred times the levels of sulforaphane than whole plants of the same kind! (Fahey, Zhang, Talalay. 1997)
Supplies To Grow Your Own Sprouts
Many types of seeds are available at your local health food store: Various types of Radish, Broccoli, Alfalfa, Red Clover and Lentils.
You will need special sprouting lids that are designed with a mesh top, made of either metal screen or extruded plastic. They usually cost less than $3.00 each.
Once you have picked up your sprouting lids and seeds from the health food store, you will need to find short, large mouth jars to fit your lids.
Stores that sell canning and preserving supplies like grocers or hardware stores should carry the short, large mouth, glass jars you need.
Three or four jars should be enough to keep a family of four or five in sprouts all winter long. Start with one or two jars, you can always add more later.
Instructions To Grow Your Own Sprouts
Soak the seeds overnight in water inside the jar.
In the morning, rinse and drain the seeds and tilt the jar upside down, on a slant, so the water leaks out, but the sprouts stay moist.
Rinse and drain your sprouts every morning and every night until they are ready to eat.
Once they are ready, store them in your refrigerator until you eat them.
Some seeds take longer to grow than others. Once you soak Red Clover seeds you will have fresh delicious sprouts in exactly five days. Radish and broccoli sprouts take upwards of eight days. The general rule is, the smaller the seed, the quicker it sprouts.
You can stagger the growth to make sure you always have fresh sprouts on hand; one jar soaking, two jars sprouting and one jar in the fresh salad you just made!
Tip
Don't stuff too many seeds in your jar because they will not have enough room to grow! Just cover the bottom of the glass jar only, do not layer the seeds. Over time you will get to know exactly how many seeds of each kind makes a perfectly full jar!
Welcome sprouts into your kitchen this winter (and every winter to come!) for the freshest, most nutritious indulgence, before fresh spring greens arrive!
References
Bowden, Ph.D., C.N.S., Jonny. The 150 Healthiest Foods on Earth. Gloucester, Massachusetts. 2007. Fair Winds Press.
Fahey, Jed W., Zhang, Yuesheng., Talalay, Paul. Broccoli sprouts: An exceptionally rich source of inducers of enzymes that protect against chemical carcinogens. PNAS Vol. 94 No. 19 10367-10372, September 16, 1997. The National Academy of Sciences of the USA.