I've been making fruit leather since my children were small. That's a long time ~ over 20 years!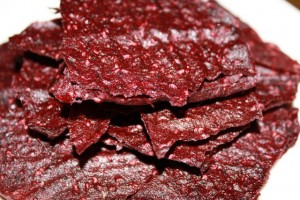 Children love these fruit leathers in any flavour!
You'll need a dehydrator for this recipe.
It's very simple to start out with strawberries, when they are in season and plentiful. You can try raspberry, mango or a combination of fruits for variety, depending on your tastes.
Fresh raw strawberries
Unpasteurized liquid honey (sometimes your strawberries are very sweet, so omit the honey)
Wash and hull strawberries. Add to blender with honey to taste. Blend until smooth. Spread parchment paper on dehydrator trays. Pour on strawberry mixture. Dehydrating time can be anywhere from 12 to 24 hours depending on how thick the mixture is. When the leather is pliable and dry, peel off the paper, let cool, and break into pieces. Store in an air tight glass jar.