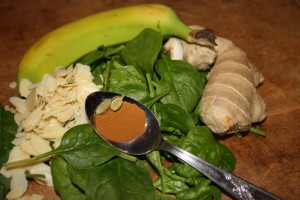 My favorite variation on the basic green smoothie is the Chai Green Smoothie, which adds three spices, cinnamon, cardamom, and fresh ginger. It's delicious!
1 organic banana
1 organic pear
1 large handful of fresh organic greens
(mix it up: spinach, kale, chard, beet greens, arugula, romaine, or leaf lettuce, etc.)
1 small handful raw nuts or seeds
(mix it up: cashews, slivered almonds, macadamia nuts, sunflower seeds, or pumpkin seeds, etc.)
1 large glass fresh water
1 teaspoon cinnamon
2 cardamom pods
Thumb-size hunk of fresh ginger
Blend until smooth and creamy.
© Feb 2010 Lisa Robbins, BScHN, RHN, CTT