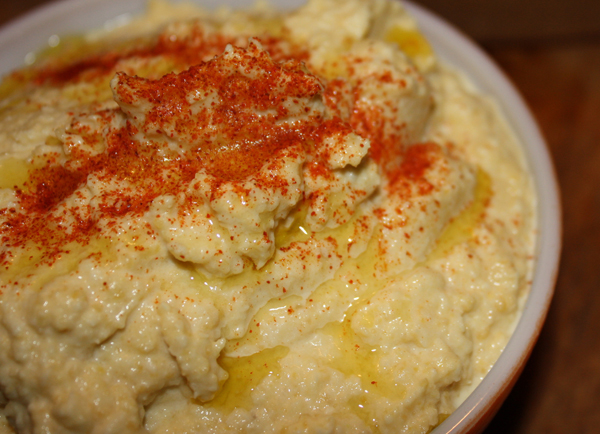 Creamy, garlicky hummus, great anytime.
Chickpeas are rich in phytoestrogens that help keep hormones balanced in men and women!
Garlic's strong oils keep infectious and pathogenic organisms such as bacteria, viruses and fungus at bay. 
You can use canned chickpeas in a pinch, but wash them very well to remove any trace of calcium chloride, a compound found in most canned beans and peas (it's also used on roads by the Transportation Department!). Soak chickpeas in cold water overnight. Drain and rinse, then add fresh cold water and cook over medium high until peas are tender. Rinse in cold water. For more detailed directions, see Soaking Beans and Peas.
2 cups cooked Chickpeas
Juice of one fresh lemon
1/8 cup cold pressed extra virgin olive oil
3 or 4 tablespoons of good quality flax or hemp oil
1 tablespoon Tahini (Sesame Seed Paste)
2 cloves of chopped fresh garlic
Generous pinch of unrefined sea salt
Add just enough water for hummus to blend well
Put chick peas in a blender or food processor, add remaining ingredients and blend until smooth and creamy.
Spoon into your serving dish, garnish with a a drizzle of olive oil and sprinkle with sweet Hungarian Paprika, the best kind!
Spicy Hummus: Add a good pinch of cayenne pepper or hot paprika before blending and garnish with tiny slivers of fresh, sweet red pepper.
Roasted Red Pepper Hummus: Add two small or one large roasted red peppers, you will probably need less olive oil
Serve with thick angled slices of cucumber and baby carrots, serve on belgian endive leaves, serve with fresh or toasted, pizza-cut organic whole grain gluten-free pitas.