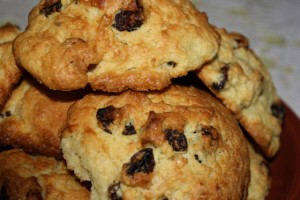 This is without a doubt the best English scone recipe ever. I promised our listeners at Celtic Storytellers and Friends on Trent Radio, that I would post the recipe here.
You'll see the original recipe with our 'healtherizing' changes below. 
I hope you enjoy this recipe and make it a part of your 'Do It Yourself" cookbook.
Authentic Old English Scones
Stir together: 
2 heaped teaspoons of baking powder
3/4 cup white sugar (sub: 1/2 cup organic brown, white or  turbinado sugar)
2-3/4 cups all purpose white flour (sub: 2-3/4 cups organic whole wheat flour)
Rub into flour and sugar mixture:
3 ounces shortening and 3 ounces margarine (sub: 3/4 cup olive oil or 6 ounces of organic butter)
Beat in:
2 eggs in measuring cup and add enough cow's milk (sub: nut, rice, hemp or organic soy milk) to reach 7 ounces, almost a cup if you have to eyeball it
Stir in:
1/2 cup dried organic currants, raisins or cranberries.
Bake:
At 450oF until golden on bottom and just cooked through.
Now don't forget to SHARE! And please . . . if you secretly try the original recipe or our new healtherized version, share your experiences by commenting below. Talk to you soon.