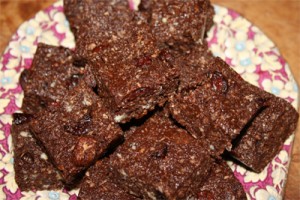 This recipe is lusciously scrumptious and decadent and everything a sweet should be; but there's something lacking… Badness!
These delectable little raw chocolate morsels are full of vitamins, minerals, phytochemicals, essential fats, protein, fibre, slow release carbs, and chocolate! Talk about dietary balance ~ they have everything; and a little secret that you don't have to tell anyone; they are a perfect PMS remedy, full of relaxing magnesium, stress relieving B vitamins, and mood enhancing essential fats.
Want to supplement your diet? Supplement it with these! All the vitamins, phytochemicals and highly unsaturated fats are still in their best, most available and useable form ~ raw!
Simple and fast, this vegan raw recipe only has five ingredients, and takes less than five minutes to whip up!
3 cups raw, slivered almonds
2 cups raw, unsweetened organic coconut
1 ½ cups raw cocoa powder
1 cup fruit juice sweetened dried cranberries
1 cup raw Agave nectar
Grind slivered almonds in a food processor or blender to a coarse flour, (I use my Vitamix ~ it takes about 10 seconds! 🙂 ) then mix with coconut, cocoa powder and cranberries in a bowl. Stir well, then gradually pour in Agave nectar while blending the mixture together with the back of a wooden spoon.
Spread olive oil liberally on the bottom and sides of a 9" x 9" cake pan and press mixture evenly into the pan.
Refrigerate until hard enough to cut cleanly with a sharp knife. Cut into squares and serve. Wrap extras in neat wax paper squares to pack in lunches. Keep refrigerated or frozen.
Enjoy!
Let us know how long these raw chocolate fudge morsels last in your refrigerator!