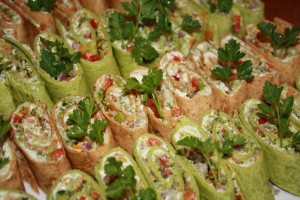 These are a fantastic party or lunch food and have the added bonus of being super nutritious thanks to the raw veggies and herbs!
Whip them up the night before and refrigerate until you are ready to serve.
Ingredients:
5 round flat tortillas, in different colors and flavors
1/2 package organic cream cheese
1 avocado mashed
1 red pepper very finely chopped
1/2 head broccoli very finely chopped
1 French shallot very finely chopped
2 tablespoons or 4 tablespoons fresh Italian flat leaf parsley
1 teaspoon dried basil
sprinkling of herbal or unrefined sea salt
Fresh Italian flat leaf parsley
Method:
Mash avocado until smooth. Blend with cream cheese and spread thinly on tortillas. Mix together red pepper, broccoli, shallot and herbs on cutting board and chop together finely. Spread thinly over cream cheese, leaving about 1 inch of only cream cheese at the end and roll up tightly, wrap in waxed paper and refrigerate, or store in glass containers. When ready to serve slice into rounds and garnish with tiny pieces of Italian flat leaf parsley.
Vegan Variation:
Omit cream cheese and use two fresh avocados or use Easy Fresh Guacamole
Healing Variation:
Garnish with fresh coriander, which binds to and detoxifies heavy metals. Coriander has a distinct and powerful flavour that grows on you. Don't give up the first time you try it. Your body will develop a taste for its healing benefits – It begins to make you feeel better, causing your body to crave it's fresh vitality, which transfers directly to you!