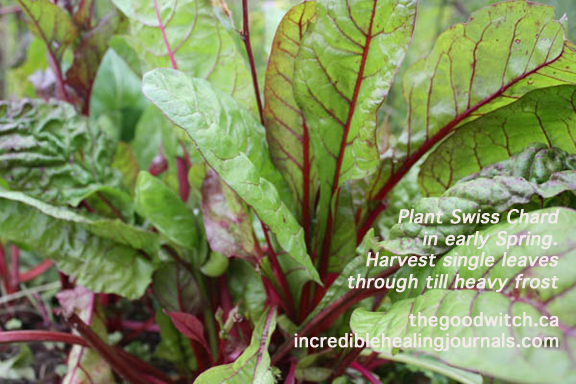 This recipe is super easy and fast. It can be eaten as salad or served as a side. Similar to Kale, Swiss Chard is a green nutrition powerhouse. Use an unrefined salt like Himilayan pink salt or Brittany grey salt for full-bodied mineral flavour and balancing nutrition.
Ingredients
1 large or 2 small bunches Swiss Chard leaves
2 cloves of garlic, sliced very thin
1 pinch unrefined sea salt
¼ cup cold pressed unrefined Olive Oil or to taste
Method
Wash Swiss Chard leaves.
Put about 1 inch of water in the bottom of a cast iron fry pan. Turn on medium high and toss in leaves just until wilted. Scoop them out, drain out water and place in a bowl. Drizzle with lots of cold pressed, unrefined olive oil, a couple good pinches of unrefined sea salt and garlic slices. Refrigerate until cold. Serve as a side dish or enjoy as a salad on its own. Makes 4 servings, 72 grams, 14.1 grams healing fat, 1.1 grams raw protein, very high in Vitamins A and C, Calcium, Iron. (http://caloriecount.about.com/cc/recipe_analysis.php#)
How To Grow Swiss Chard
It's so simple to grow greens in your own garden. Swiss Chard and Kale are hardy plants and can be planted in early spring. You'll have fresh greens right through until early winter. Just throw a few seeds amongst your flowers or in your veggie garden. Harvest single leaves off your plants all season long rather than cutting an entire plant. You can do this with all greens including lettuce. If you let one or two plants go to seed, providing they are heritage or open pollinated organic seeds, you'll have thousands of your own seeds for next year. In autumn when the seeds are completely dry and brown, run your hand from the stem to the tip, collecting the seeds in your hand as you go. Store your seeds in a glass jar or paper envelope in a dry, cool place for the winter. If you label them, you'll know what they are in spring, if you don't, you might not. Greens can also be grown in pots on a deck or balcony. Mix compost with planting soil in a large pot and plant seeds directly. Water well and keep in a sunny spot.