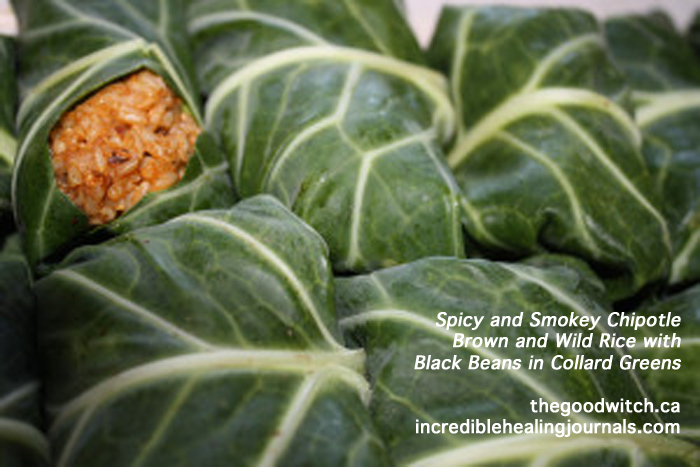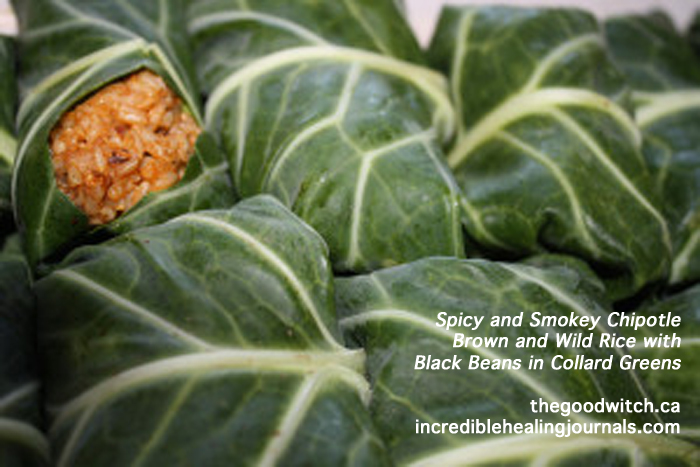 [1]
These spicy, smokey and delicious Mexican Mole Rice Rolls with Collard Greens have tons of healing nutrition, brilliant colors and taste galore! You can make lots and freeze them and cook from frozen. They make a great delicious, healthy and quick meal that way. They are served with fresh raw salsa and green Jalapeno sauce.
I love sharing delicious healing recipes with you and I have one request before I hand over this special recipe 🙂
Please use all organic foods whenever possible. Organic has all trace minerals – mono cropped non-organic vegetables are nutrient deficient and contaminated with pesticides, chemicals and heavy metals. Just say, 'No' to that! 
Spicy Rice
1 cup Wild Rice (technically a Grass seed), soaked overnight
1 ½ cups organic brown, Basmati or Long Grain Rice
1 large onion chopped fine
1 organic Broccoli head chopped fine
1 cup organic Black Beans soaked overnight, one or two nights, and cooked in fresh water on medium-low until tender
Good pinch unrefined sea salt
3 tablespoons of Mexican mole powder
1 large dry authentic smoked Mexican Chipotle pepper, chopped fine
Organic Collard Greens, at least eight large leaves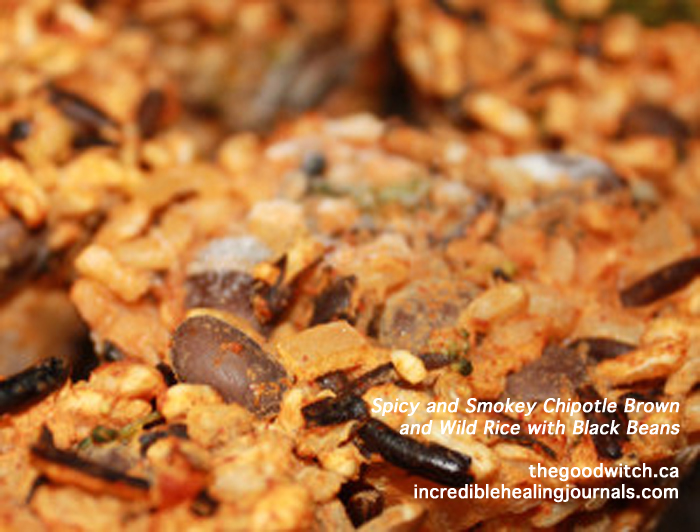 [2]
Cook Wild rice and Brown rice together in fresh water on medium-low heat, in 3 ½ cups of water, until tender and fluffy. Use more water as needed if you aren't using a tight lid on your saucepan. Using a lid makes fluffier rice that takes less time to cook and uses less water.
Toss cooked rice with beans and remaining ingredients. Mix together well.
Wash and slit the thick main stem right up the centre about four inches or so, in each Collard leaf. Starting opposite the cut, place a large spoonful of rice into leaf. Roll a bit, then tuck in sides and continue rolling. Place on seam and freeze for later, or bake at 325 F degrees until leaf starts to wilt in oven and rice is heated through. Serve with fresh Salsa, Jalapeño hot sauce (recipes below) and ¼" thick slices of fresh Avocado.
Traditional Mexican Mole Powder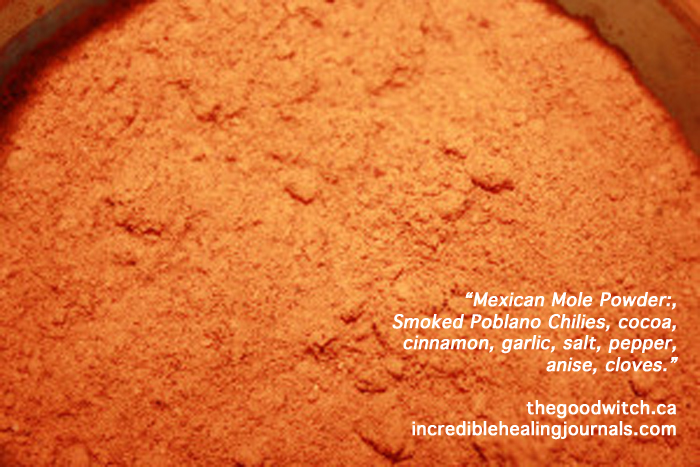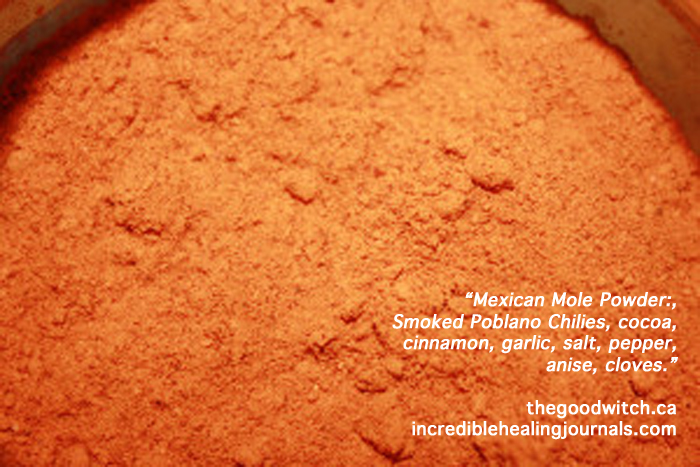 [3]
Mexican superfine mole (mōlli) powder (e sounds like long a), a mild superfine chili powder, traditionally made with chilies, cocoa powder, dried raisins, cinnamon, garlic, cumin and nuts ground to a fine powder with lots of variations to that list, much like curry comes in every possible variation and twist, so does mole.
Fresh and Raw Salsa
Chop up lots of organic tomatoes, two cups or more
½ to 1 medium organic onion, chopped small
½ to 1 organic Sweet Red or Orange Pepper, chopped small
Add a good pinch unrefined sea salt
Juice from one or two organic limes
Lots of loosely chopped fresh organic Coriander leaves
Simple Jalapeno Mild Hot Sauce
This is a delicious staple hot sauce, prepared raw and heated just until the air from the blender is removed, which helps the sauce to retain maximum nutrients.
Chop up equal parts of Green Sweet Peppers and Green Jalapeño Peppers. For hotter sauce, add more Jalapeños and less Green Sweet Peppers.
Blend on high with the juice of one or two fresh organic lemons and a couple good pinches of unrefined sea salt. You can add a bit of Apple Cider Vinegar if you like a vinegary taste to your hot sauce. I do! Blend until it's nice and smooth.
Heat the sauce until the air bubbles from the blender dissolve. It doesn't take long and you'll see the sauce darken slightly as the air dissolves out of it. Remove from heat immediately.
Spoon or pour hot sauce into ice cube trays and freeze. Once frozen, pack the cubes into glass storage containers and refreeze.
Before serving pop out one or two cubes of hot sauce from the freezer and allow time to thaw.