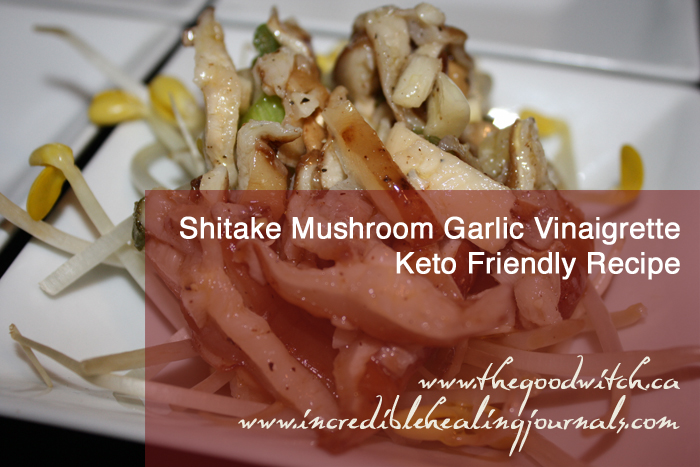 Maitake, Reishi and Shitake Mushrooms show immune modulating and anti tumor properties. They help to increase the activity of natural killer cells and other immune cells.
Most supermarkets and health food stores carry several varieties of mushrooms in fresh or dried forms. Buy the whole fresh mushrooms and slice into salads or onto sandwiches. Dehydrated mushrooms can be refreshed in a little water, then sliced and added to soups, salads, casseroles or sandwiches.
Dried medicinal mushrooms like Shitake can be made into a tea, by crushing them in a mortar and pestle and pouring boiling water over them. Let steep at least twenty minutes.
Shitake Mushroom Garlic Vinaigrette
1-8 oz. (225 g) package Shitake Mushroom s, or about 12 – 15 mushrooms
3 tablespoons of fresh squeezed lemon juice
6 tablespoons of unrefined cold pressed Olive Oil
Unrefined Sea Salt
1 Garlic clove minced small
1 small green Spring onion minced small
1 Crank of fresh ground black or red pepper
Remove tough part of stems and slice mushrooms thinly. Wash and shake dry.
Add to serving bowl with lemon juice and olive oil. Add remaining ingredients and toss lightly with fork.
Refrigerate until serving in an airtight container, up to 3 days.
Eat on it's own, or use it to top salad, fresh raw bean sprouts or greens, pastas or as a side with curries.
Ketogenic Ratio: 3.15 : 1
90.67 grams of fat + protein : 28.74 grams of carbohydrate
Protein + Fat 3.15 grams : Carbohydrate 1 gram