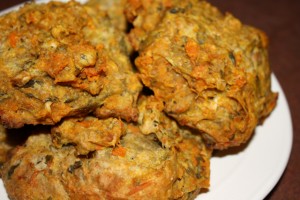 [1]The colder days of autumn find me longing for heart-warming, savoury foods, searching through cupboards and rummaging through drawers for inspiring ingredients.
I recently found an old potato biscuit recipe I used to make when my children were small.
The original recipe uses potatoes, white flour, a tiny bit of sugar and milk.
These biscuits are transformed into a scrumptious powerhouse of nutrition by substituting potatoes with sweet potatoes, swapping the milk for water, dumping the refined sugar, using organic whole wheat flour and adding hearty kale and flavourful, nutrient rich herbs. Potatoes give biscuits a dense but moist consistency, somewhat like stuffing. I can already taste the comforting flavour of fragrant Rosemary, savoury Oregano and delicate green Parsley as they summon me from the spice cupboard.
These wonderful biscuits are quick to make and pair well with Quick Winter Vegetable Soup with Pasta and Chickpeas [2] or a hearty vegetarian chili.
This recipe makes 16 large biscuits.
The Recipe:
Before you begin to assemble the dry ingredients, peel the sweet potatoes and toss them into a pot of water. Bring to boil and let them simmer while you prepare the rest of the ingredients. When they are tender, strain them and mash them with a fork.
Toss dry ingredients until blended well:
2 tablespoons baking powder
3 cups organic Brown Rice or other whole grain flour
½ cup dried flaked kale
2 teaspoons unrefined sea salt
2 tablespoons ground Rosemary
1 tablespoon ground Oregano
1 tablespoon ground Parsley
2 shallots chopped fine
Combine wet ingredients until well mixed:
1 cup water
6 tablespoons olive oil
3 cups mashed sweet potatoes
Oil for brushing tops of biscuits
Method:
Pour wet ingredients into dry and mix well, using a wooden spoon or your hand to knead the ingredients together.
Drop onto greased stones (require longer cooking time but cook evenly and never burn cookies or biscuits) or cookie sheets and bake at 375 degrees Farenheit, (190 Celcius, Gas Mark 5). Bake for 20 minutes, remove from oven and brush tops with oil, and sprinkle with sea salt. Bake for 10 or 15 minutes more, until golden and cooked through.
Serve warm from the oven. These biscuits are perfect for packing in lunches, and this large recipe will make sure you have lots left for the next day's lunches.
Looking for simple ways to cleanse?
Cleanse Your Body, is a 19 page, full colour pdf, with 9 different cleanses, from the simple water cleanse to the more advanced liver and gall bladder cleanse. This educational report contains simple instructions and essential information about cleansing. Don't wait a minute longer to heal yourself. It's simple and costs almost nothing, except for the cost of food you have to purchase anyway. What better time to cleanse than right now.
Claim your complimentary copy of Cleanse Your Body! [3]