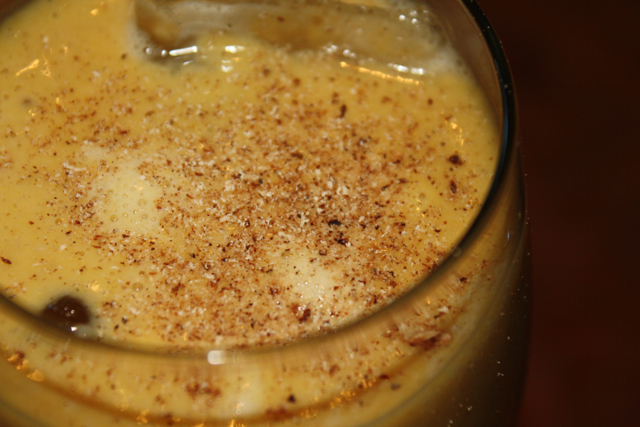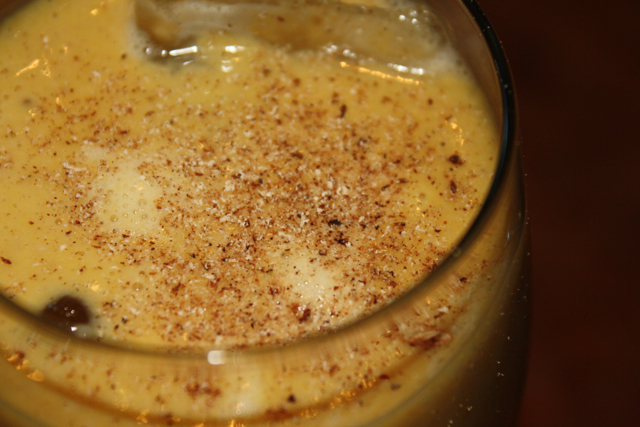 [1]What? Healthy? Yes, everything can be healtherized!
Eggnog is one of the simplest recipes to turn raw.
Why buy fattening, artery clogging, thick, sweet, cooked eggnog from the store, if they have it in stock, when you can make it yourself anytime at home in 30 seconds?
Next time you are out shopping, pick up vanilla beans (or pure vanilla extract), and a nutmeg nut. Hopefully you will have eggs, dates and raw, slivered almonds or cashews on hand (from the all that raw nut milk you have been making lately). If this slipped by you, what I meant to say was, seed and nut milks are delicious, nutritious, filling, slimming, and generally knock out, health enhancing! See Hemp Milk and other easy Seed and Nut Milks [2].

Like Rich Chocolate Rumballs [3], this eggnog is made with raw nuts which feeeed your body, your nervous system, brain, immune system, and arteries; lowering cholesterol, burning off excess saturated fats, providing your trillions of cells with a rich pool of antioxidant protection and tools to repair and rebuild themselves.
Raw eggs add a rich creaminess and health enhancing nutrition. They transform the flavor to a more traditional nog. Just be sure to use very fresh eggs and keep the nog refrigerated until serving time.
Important Tip
Nuts fill you up with everything you need, extreme quality protein, fibre, vitamins, minerals, highly unsaturated fats, phytochemicals … if you are craving food, eat nuts, they are one of the secrets to super nutrition! Find out more about Super Nutrition – it is one of the 10 Key Principles of Healing and takes up a lengthy chapter in The Cancer Journal ~ Heal Yourself! [4]
The Recipe
½ cup raw cashews or slivered almonds
2 cups fresh water
½ vanilla pod
4 Medjool dates (or 6 normal dates but the sweetness of Medjool is better!)
½ teaspoon freshly grated nutmeg
2 fresh raw eggs (optional)
Throw the ingredients into the jar of your blender. Turn it to high and blend until the nog is smooth and creamy, about 30 seconds in a Vitamix, one to three minutes in a regular blender depending on its strength. Pour through a fine sieve into a tall glass with ice. Add a little rum or brandy for extra holiday cheer, and grate fresh nutmeg over the top.
Vegan Variation
Leave out the eggs — That's it!