Start your healing journey right now … take a moment to enter your name and email in the form to your right, to gain instant access to 'Cleanse Your Body!', with nine cleanses: Daily Fast, Simple Water Cleanse, Lemon Juice Cleanse, Watermelon Cleanse, Burdock Root Tea Cleanse, Fresh Juice Cleanse, Raw Vegan Cleanse, Brown Rice Cleanse, Liver Gallbladder Cleanse. Includes 'Heal Yourself eZine', with delicious healing recipes, simple tips, incredible interviews with people who have cured themselves of cancer, diabetes, asthma, multiple sclerosis and many other chronic diseases.
Instantly Download The Cancer Journal Heal Yourself in PDF form ~ Only $9.99 For A Limited Time …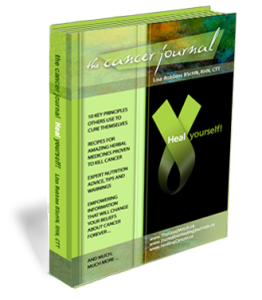 Worried about cancer?
 Whether you have cancer or you want to know what to do if you get it, The Cancer Journal Heal Yourself can dissolve your fears and provide truly effective and safe strategies to ignite your healing flame and keep you focused and moving forward in healing.
Come on a journey of discovery with this comprehensive resource and how-to book, complete with photographs, recipes for anti-cancer herbal remedies, expert advice on nutrition for cancer, details of how others cure cancer naturally and how you can do the same … a complete understanding of how your body cures cancer and heals itself and much, much more … The Cancer Journal ~ Heal Yourself! ~ the simplest and most effective strategies on how to prevent cancer naturally and how to cleanse, nourish and heal yourself if you have cancer. Short and to the point, with everything you need to start healing right now …
"What a wonderful book. I wish that I had been able to access a copy of it a few years ago … it is very well written and explains so much for people who need information about cancer, and for people who know someone that has been diagnosed with cancer. I would strongly recommend this book as it is a valuable resource of information about cancer."
Pebbles Baverstock